Actively mobilizing resources
In the face of the difficult situation due to the impacts of the Covid-19 pandemic, leaders of VAVA National and local Party committees and authorities soon paid attention to directing and organizing Tet welcoming activities for policy beneficiaries, the poor and agent orange victims. Associations at all levels have actively coordinated with functional agencies and associations at the same level to promote propaganda and mobilization of social resources, businesses, benefactors, etc. to join hands to support and present gifts to AO victims on the occasion of new year of 2022.
Senior Colonel Nguyen Huu Y, Chairman of Hai Phong's VAVA, said that, thanks to the initiative in directing and implementing, all 14 district associations and 200 sub-associations in the city have mobilized businesses, benefactors to join hands in taking care of the victims during Tet holiday. In the whole city, there are 6451 AO victims who are entitled to Tet donations derived from the budget and social sources, with total value of more than 25.578 billion VND which is 2.838 billion VND higher than 2021.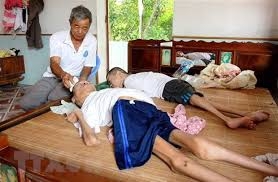 The provinces of Thanh Hoa, Ha Nam... for many years have well maintained the "Tet for the poor and AO victims Program", but for Lunar New Year 2021, due to the impacts of the Covid-19 pandemic, the Provincial Party Committee, People's Committee, and the Provincial Association did not hold this program, but encouraged businesses and benefactors to directly visit and present gifts to victims. Thanh Hoa Provincial People's Committee donated 8,437 gifts, worth 2.53 billion VND, to 100% of the AO victims. Its Party committees, authorities, mass organizations, agencies, and units visited and presented 2,282 gifts worth more than 1.14 billion VND. Along with presenting gifts to AO victims, Ha Nam Provincial Association also gave gifts to 100% of officials at all levels of the association from province to commune and ward.
According to Ms. Duong Thi Le, Chairwoman of Tien Giang Provincial Association, due to the early and specific, appropriate and flexible campaigning plans at all levels, together with the high determination of union officials, the whole province mobilized more than 5.3 billion VND. In localities where the Covid-19 pandemic has been put under control (Ninh Binh, Kon Tum, etc.), the association for victims of AO/dioxin coordinated with the Red Cross to organize the program "Tet for the poor and AO victims" with appropriate scales and models, achieving high results and complying with regulations on disease prevention and control.
Associations at all districts of Can Tho City have reached the target of campaigning for Tet gifts for the victims assigned by the municipal association, with a total of 8,044 gifts from social mobilization sources that worth more than 3.518 billion VND. The city spent more than 3.7 billion VND on subsidies for the poor during Tet holiday. Dak Nong province mobilized nearly 2,000 gifts, reaching 197% of the plan assigned by the Provincial People's Committee.
Those results were attributed to the enthusiasm and responsibility of the association's staff. Many chairpersons of associations at districts, communes and wards are mostly elderly with limited health. They are not entitled to any remuneration or allowances, but do not mind the difficulties or hardships in mobilizing, transporting the benefactors and businesses to survey the circumstances and give gifts to the victims.
Associations at all levels have coordinated in reviewing and firmly grasping the number of AO victims entitled to monthly benefits, especially victims who are in extremely difficult situations, to conduct visits and gift giving to ensure the right persons and practicality. The Standing Committee of the Association at all levels have solemnly and thoughtfully organized the receipt and distribution of funds and gifts that have been raised; coordinated with departments, branches, mass organizations and invited leaders of Party committees, authorities, Fatherland Front... to visit and give gifts to victims in a thoughtful and timely manner.
Practical deeds of gratitude
Thanks to the attention of the Party, State, Party committees, and authorities, efforts of all levels of associations and the contribution of the whole community, 100% of the direct and indirect victims received Tet gifts; some families of victims with special difficulties even received 2 to 3 gifts.
Along with that, many practical meaningful deeds and projects seemed to multiply the joy of the victims' families during the Tet holiday. Ninh Binh Provincial Association inaugurated and handed over 9 houses of gratitude supported by the Provincial Association for Victims of Agent Orange Fund and 3 other houses donated by organizations and businesses. Ha Nam Provincial Association inaugurated 2 gratitude houses with total value of 237 million VND. Bac Lieu Provincial Association mobilized, built and handed over 5 "House for Agent Orange victims", total value of 250 million VND. Bac Giang Provincial Association handed over 5 gratitude houses. Ca Mau Provincial Association built 4 new houses, repaired 4 houses for the victims, totaling nearly 430 million VND... Dak Nong Provincial Associations at all levels mobilized more than 410 working days, 132m2 of corrugated iron, 56m3 of building materials (total value equivalent to more than 160 million VND) to support 39 victims' families of extreme difficulty to repair houses, kitchen, toilets, alleys…. Y Yen District Association (Nam Dinh province) deducted 40 million VND from the Sponsoring Fund for AO victims, and coordinated with Yen Nhan Commune government to call on benefactors to donate 110 million VND to build a new house for Do Van Thi living in cluster 2, Yen Nhan commune.
Leaders of Quang Ngai province, along with many organizations and individuals of the province, visited and presented gifts to the children at the Provincial Center for the Protection of AO victims and Children with Disabilities, supported 2 victims' families with unexpected difficulties in Mo Duc district, and donated 23 wheelchairs to the victims. Ha Tinh Provincial Association held activities of caring, nurturing, and detoxification for 30 AO victims and presented gifts (1.2 million VND/pax). Binh Dinh Provincial Association coordinated with agencies, units and donors to give 50 breeding cows and supported in building cages, totaling 1 billion VND to 50 households of AO victims.
The activities of caring and helping AO victims at all levels during the 2022 Lunar New Year holiday not only brought joy to AO victims and their families, contributing to ensuring social security, but also enhanced the role and prestige of the associations. Through these activities, many businesses, benefactors, and sponsors understand and sympathize more with the victims, and will continue to accompany and join hands to take care of and help the victims in the coming time.
Anh Quan - Dinh Nguyen